Marco Nemesio E. Montaño, Ph.D.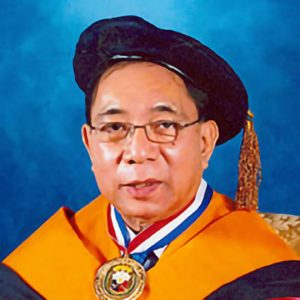 Education:
University of Liverpool, United Kingdom Postgraduate Diploma in Marine Pollution 1979
Griffith University, Australia Ph.D. Biological Chemistry 1991
Selected Publications:
De la Paz, A.A. Sumalde, C.J.G. Cruz, J. A. Robles, E.A. Pajarillo, P S. Apelado,R J G. Bawalan, H.Y.Lam, I C Sia, N.E. Montaño, and F.M. Heralde III, 2015. Not all of Taua-taua are Alike: A Morphological, Molecular Genetic, Phytochemical, and Anti-thrombocytopenic Profiling of Different Euphorbia hirta Linn, Plants from the Philippines, Phil J Health Res Dev, 19(1):39-49

Lam, H. Y., Enriquez, M L D, F M Heralde III, M.M. Loquias, M.N.E. Montaño, J.D. Agapita,A.K. Arriola,L J Cruz,I. C. Sia , K. J.G. Cheng, C. M. Enriquez, H.N. Marabomsalic and J R D. Yap. 2018. Establishing a Blueprint for Nature-based Products Development and Conservation for the Philippines. Acta Medica Philippina 52(4):295-301

Tantengco, GOA, Limbo, AC, Montaño, MNE and Jacinto, DS. 2015. Cytotoxic activity of crude extract and fractions from Sargassum siliquosum (JG Agardh) and other seaweeds against selected human cancer cell lines. International Journal of Biosciences 7(2): 207-215.

Cañete, SJP and NE Montaño. 2002 Kappa-carrageenan gel as agent to sequester Paralytic Shellfish poison. Marine Biotechnology 4(6): 565-570

Bonifacio, R.S. and N.E. Montaño. 1998. Inhibitory effects of mercury and cadmium on seed germination of Enhalus acoroides (L.F.) Royle. Bull. Environ. Contam. Toxicol. 60: 45-51. • Montaño, MNE. Seaweeds in Philippine food: Traditional uses and recent developments. Fisheries Science 68 Supplement II: 1457-1459, November 2002.

Montaño, N.E., G.Gavino and V.C. Gavino. 2001. Polyunsaturated fatty acid contents of some traditional fish and shrimp paste condiments of the Philippines. Food Chemistry 75 (2001) • Romero, J.B., N.E. Montaño, F.C. Merca, R.G.O. Rumbaoa, R.D. Villanueva. 2000. Effect of Sucrose on some Physical Properties of Different Philippine Agars. Philippine Journal of Science 129(1):7-13.
Research Impacts:
Researches on Marine Plants Utilization greatly impact on the coastal communities of the Philippines. Recording the traditional use of marine Plants and animals can be linked to improved studies for medical use of marine resources and development of drugs for medical, pharmaceutical and nutritional products. Utilization of Marine Resources can help alleviate poverty.
Back to Faculty